When the very cool
Kym
introduced the Winter 2010 Sockeroo of "Sock It To Me" (SITM), I knew that I was IN!
What's this all about, you ask? Well I couldn't put it better than Kym herself:
"According to Dictionary.com, sockeroo is defined as a notable success. We might not all have successes on our individual journeys, but what we never fail at is offering support to one another. We're like a good pair of socks: no matter our different appearances or compositions, we provide warmth, comfort, and support.
Welcome to The Sockeroo - a list of notable successes in the support and warmth found within this blogging community."
In addition to exchanging cool socks with our buddies, we were also to share how the ALI community has helped us. For me, it's just knowing others out there "get it." It's having supportive comments on the good days and more importantly, the bad ones. It's being constantly amazed that there are women out there whom I have never met (and perhaps never will) who are rooting for me like a sister. I don't know if it's all these damn raging hormones from the fertility drugs, but I'm tearing up here and feel the need to exclaim, "I love you guys!"
My buddy was Lynn from
Wistful Girl.
I hope that she's enjoying her socks! It was neat to be paired with Lynn because we share some similar IF challenges. We're both dealing with PCOS and insulin resistance. Right now she's doing well with a Femara cycle, so why not stop by and give her some love!
Now for my socks. How excited was I yesterday when I picked up the mail and saw a package from the U.S.! I tore it open the minute I got home and here is what was inside: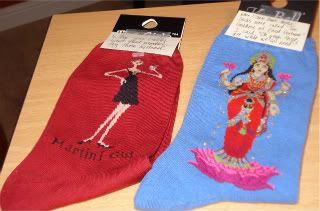 Two amazing pairs of socks from Traci over at
IF Optimist, then...
Traci sent a lovely and kind note (on the coolest "Where The Wild Things Are" card!) inspiring me on. After her own IF journey she is now expecting twin girls! Reading her blog gives me hope for what CAN happen. Traci, thank you so much, know that I'm wishing you and your "wee monsters" all the very best!
I had to capture these socks off of my feet so you could see the amazing designs. The first, a stunning red pair with a glamourous girl holding a martini. According to Traci these are for "when (I) really want that martini...try these instead:"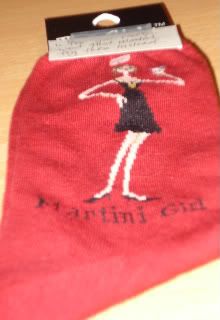 The second pair is definitely what I'll be wearing to my dIUI on Friday. Traci writes, "When I saw that these socks were called 'The Goddess of Good Fortune' I said, 'Oh yeah, those are what we all need!'"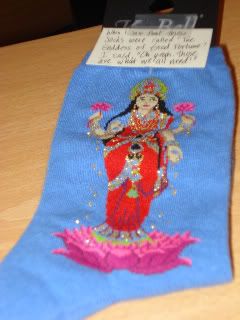 They could not have arrived at a better time and I love them both. Traci, thank you again!
Be sure to hit up Kym's blog to check out all of the other SITM posts! Thanks again Kym for making this happen!