To read part one of this post (so that this actually makes some sense!) - click
here.
Don't worry, if you haven't read it, just click
here.
I'll wait, I promise.
Read it? Okay! Let's carry on with Period Watch: The Clusterf!#$% Edition.
I dedicate this part of the post to a wonderful blogger, Maddy, from
Late for a Very Important Pregnancy.
(Hence the title.) If you haven't visited Maddy's blog before, please do. She is kind and thoughtful and has probably provided me with more information and food for thought than I can ever give her credit for. So Maddy, this one's for you!
It was
this post
of hers that got me thinking about my thyroid. She introduced me to a book called
The Thyroid Solution
. Now at first, I appreciated the post, but I really didn't think that it had much to do with me. Until she happened to mention that there were some connections with the thyroid and PCOS in the book. That peaked my interest since I'm always looking out for more information on PCOS. So I went to my nearest Chapters and picked up a copy for myself. (Note: if you order the book online you will receive the most recent and up to date edition - I was too impatient but wanted you to know just in case this appeals.)
As I read through the book I was floored. So many of the links with
hypothyroidism
seemed to pertain to me.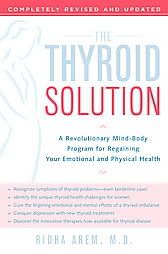 Now I know what you're possibly thinking. "Easy there, hypochondriac. Don't got self-diagnosing, it's way too easy to label yourself with everything out there!"
I know. But since I was seeing the PCOS Specialist anyways (who is an Endocrinologist by the way), I raised the issue of testing my thyroid stimulating hormone (TSH). It's as easy as a quick blood test. Upon looking at the records sent from my family doctor and the fertility clinic she noted that my TSH was in the normal range but still on the high end. So we tested it again last Monday.
I called her office the next morning to get my results.
Now I don't want to brag or anything, Internetz, but someone award me a medical degree! (Okay, not really). Sure enough my TSH level was slightly elevated but enough so for her to prescribe me with a low dose thyroid medication.
Are you still with me? I know I'm rattling on, but please hang in there, it could be worth it.
This is where things get interesting. She said that she was very glad that I pursued this with her. Not only for my general well being but for fertility reasons as well.
You see with my thyroid out of whack, there could be an even greater risk for miscarriage were I to get pregnant. And if I do manage to get myself knocked up, I am to see her immediately because she will want to monitor me closely.
Internetz, this is HUGE. For fertility and much more.
Fertility reasons aside, I must confess to you that for a long time (in spite of all of my vitamins and occasional healthy living inspired by my Naturopathic Doctor) I have felt so bloody tired and crappy. I was honestly beginning to think I was going a little crazy because the exhaustion was ridiculous. I have hope now that it all relates back to my wacky thyroid and with the help of this medication and monitoring it, I'll start to feel like my old self again.
I am so grateful that Maddy shared this book find with me and other fellow bloggers. I wanted to do the same in case there's someone out there who is reading this thinking, "Hmmm, this might be worth looking into a bit more." Or perhaps you have a pre-existing thyroid issue. I would totally recommend this book if you do. It has extensive information on both hypothyroidism and hyperthyroidism.
Let me be clear. This isn't a review. I'm not getting anything for telling you all this. But hell, if this helps someone else, I'd so be willing to buy a copy of the book out of my own pocket for someone else. That's how much I appreciated reading it.
So there you go Internetz! Being a Libra, I'm all about balance. Here's hoping that these latest developments will help balance my body so that a pregnancy becomes a possibility!